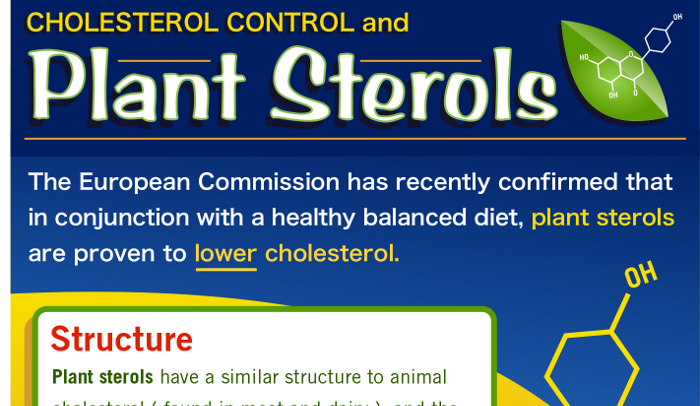 Foods that are high in plant sterols and stanols are known to help contribute to lowering cholesterol. Many of these manufacturers have used natural occurring sources in the food and concentrated them to increase the sterols and stanols level. The following provides a basic food list for you to use as a guide.
Cereals
Rice bran
Wheat germ
Oat bran
Bran
Whole wheat
Brown Rice
Legumes
Dried peas
Dried beans
Lentils
Nuts and Seeds
Peanuts
Almonds
Walnuts
Pecans
Sunflower seeds
Pumpkin seeds
Sesame seeds
Fruits and Vegetables
Broccoli
Cauliflower
Brussels sprouts
Dill
Apples
Avocados
Tomato
Vegetable oils
Wheat germ oil
Blueberries
Fortified Foods
Orange juice
Margarine
Cookies
Energy bars
Yogurt drinks
The following infographic provides a quick guide to the primary sources of plant sterols and understanding to the best methods to follow for lowering cholesterol. The consumption of foods with plant sterols has been medically proven to reduce cholesterol levels.